Solar Dock Lites v3.0 Fresh Water Series: $55/pair
New - 2X more Powerful Epoxy Encapsulated Solar Panel! (Now 0.5 watts!)
New - Screw on lid with rubber seal for easy opening and water tight sealing!
New - Battery holder with plastic clip for easy battery replacement!
New - Hi-Temp rated batteries for superior performance on hot summer days!
New - Higher efficiency control circuit for brighter output
New - Rounded reflector increases light output and uniformity!
New - Brighter and more colorful Super-Bright LED's!
2X brigther and longer lasting than solar garden lights! The Solar Dock Lite™ v3 is a great way to light up your dock or pier. During the day the solar panel collects the sun's energy and charges the batteries. At nightfall, Solar Dock Lite's sensor automatically turns on the super bright LED. With multiple units your dock will provide an elegantly lit pathway for all to walk on. This unit is hands free and energy efficient! Lasts 18+ hours on a full charge and is brighter than conventional solar garden lights! Yes it lasts all night! Just place it on your dock post and you are ready to go!
Your dock was an expensive investment and we encourage you to protect it from unwanted boating collisions. Lining your dock with Dock Lites isn't just for looks. It adds safety as well. Ask your insurance company about discounts on your umbrella insurance for protecting your dock with Dock Lites™!
What's Your Favorite Color? Six color options are available (special order)!
That's right, your Solar Dock Lite is the only solar powered light in the world that has the ability to easily interchange different color LEDs! We know not everyone's favorite color is the same so choose from White, Blue, Green, Red, Orange, or Yellow (colors are additional cost)! After all who wants the same color as their neighbor?
Will it fit my dock post?
The Solar Dock Lite™ has a patent pending "universal" fitting design which allows it to adapt to most common dock posts. The unique design allows your Solar Dock Lite the ability to mount to different post sizes as well as to flat surfaces! Simply use the included fittings to adapt the Solar Dock Lite to your size post. Use the set screw or other mounting options and your ready to go! Yes, its that easy! Fits post sizes: 1-5/8" OD, 1-7/8" OD, 2-3/8" OD, 3-1/4" ID, Brock Docks, 4x4 wood post, and flat surfaces. Pipe varies slightly everywhere you go so depending on your post/pipe it may be necessary to use a layer of duct tape around your post for a perfect fit, but it's that simple!
Applications: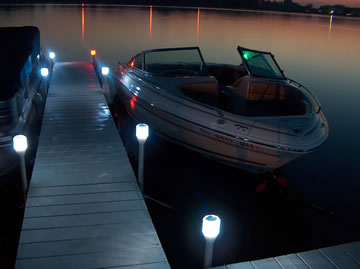 We like to say the Solar Dock Lite is the most universal solar light in the world! What other solar light gives you the ability to change colors and mount in so many ways? With all these options, applications are endless!
Line your dock with conventional white and place a red and green one at the end of your dock to mark left and right. Also works great on auger posts and the tops of buoys for marking channel way entrances, pathways, and exits! Place one on that swimming raft you almost drive into every night! The possibilities are endless.
Key Benefits:
Safety!
Visibility!
Super Bright LED's!
Fully Automated!
Maintenance Free!
Call now to get more info - 218-692-2760,
or contact us by email.